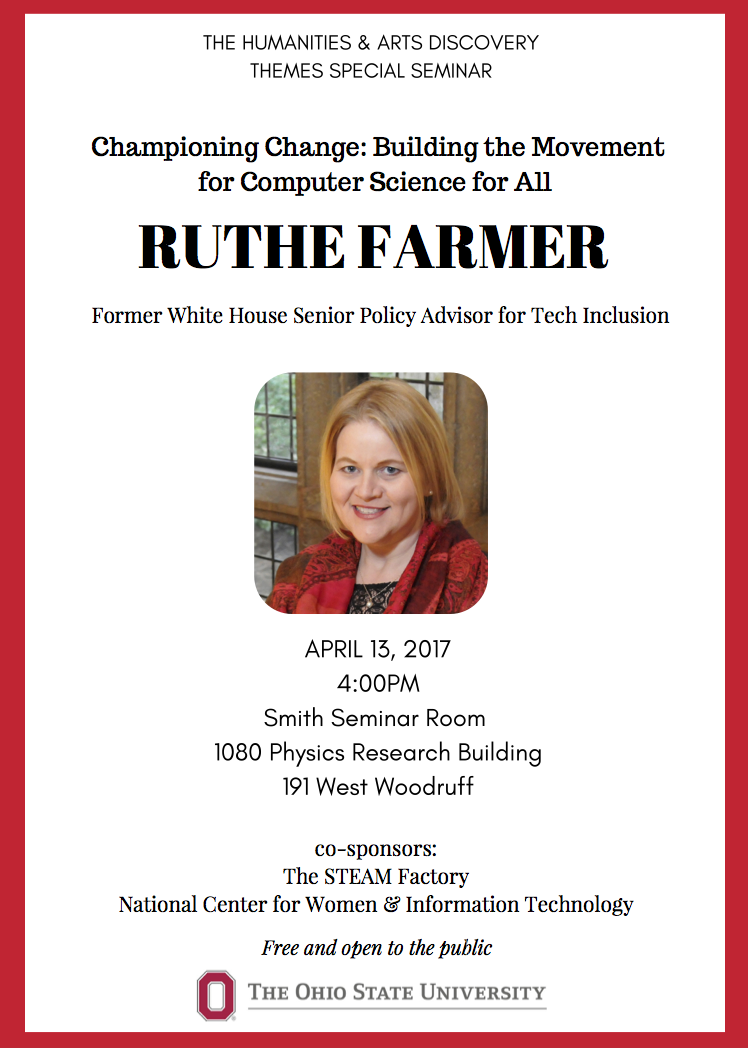 About Ruthe Farmer:
Former White House Senior Policy Advisor for Tech Inclusion
Advocate for Diversity and Inclusion in Technology, Engineering & STEM
Ruthe Farmer has focused her efforts on diversity and inclusion in technology and engineering since 2001. She most recently served as Senior Policy Advisor for Tech Inclusion at the White House Office of Science & Technology Policy where she led implementation of President Obama's call to action for Computer Science for All (CSforAll) American students, and advised on national tech inclusion policy.  While at the White House, Ms. Farmer launched Summit on Computer Science for All and engaged over 500 community partners in making public commitments to advance and support CSforAll.
Prior to joining the White House, Ms. Farmer served as Chief Strategy and Growth Officer at the National Center for Women & IT (NCWIT) and Director of the NCWIT K-12 Alliance.  At NCWIT Ms. Farmer led strategy and development of national initiatives to increase the meaningful participation of women and girls in computing and IT fields. She launched and scaled the immensely successful Aspirations in Computing talent development initiative for young women in computing, growing the program to a national footprint in just three years. Today Aspirations in Computing is available to all girls and young women in the US and territories, and includes the AspireIT near-peer outreach program for K-12 girls, the Award for Aspirations in Computing for technically inclined high school women, the NCWIT Collegiate Award recognizing the technical contributions of college women, and a national Aspirations in Computing community of program alumnae.  Additional significant contributions include: the TECHNOLOchicas campaign for Latinas, a bilingual media campaign produced in partnership with the Televisa Foundation and distributed by Univision; the expansion of the NCWIT Student Seed Fund, and leadership of the NCWIT K-12 Alliance, which has a reach of 100% of US girls through its broad network of partners.
Ms. Farmer served as the 2012 Chair of Computer Science Education Week, was named a White House Champion of Change for Technology Inclusion in 2013, received the Anita Borg Institute Award for Social Impact in 2014, and the Education UK Alumni Award for Social Impact in 2015. She is a profile public voice for equity and inclusion in technology and has been an invited speaker at the United Nations, the European Parliament, the White House, the Washington Post, TEDxBeaconStreet, Oxford University, the Federal Reserve, universities and colleges nationwide and many others. She is an advisor to PBS SciGirls Latina and SciGirls Code, RoadTrip Nation, and the Girls Choice Awards, and is on the high level advisory board of the European Centre for Women in Technology. Ms. Farmer has been a guest contributor for Techcrunch and the Shriver Report, and has been featured in Forbes, The Financial Times, TechRepublic and EdScoop for her work. She holds a BA in Communications and German from Lewis & Clark College, and an MBA in Social Entrepreneurship and Marketing from the University of Oxford Said Business School. She is passionate about integrating innovative business strategies into social change efforts.