Our community in the Appalachian Project is still buzzing from our inspiring visit by the two-time Academy Award-winning filmmaker, Barbara Kopple, after her visit to OSU's Columbus campus this week.
Several groups partnered with us to host a special screening of Harlan County USA to a packed audience in the Wexner Center's Film/Video theater on Wednesday, March 2. The crowd enjoyed the musical accompaniment by David Morris, who provided some of the original music for the documentary, along with his son Jack Ballangee Morris, which included the classics such as "Which Side Are You On?", "Coal Tattoo" and "Dark as a Dungeon". We also had a special sneak preview of Jack's new song, "West Virginia Refugee." Kopple screened her film and then engaged the audience in a Q&A session. During the discussion, people asked about what Harlan County is like today (especially the role that coal plays in their economy), how the UMWA was faring, and how making the film impacted Kopple's life and art. A number of audience members were from the region, related to coal miners, or were labor activists and scholars from the community and university.
On Thursday, graduate and undergraduate students engaged Kopple on all aspects of documentary filmmaking, including individual advice about getting their own projects in motion. Students also had the opportunity to view her latest documentary film, Shelter, which tells the story of military veteran homelessness.
If you were unable to join us for the event, don't worry! Video from the event will be housed in The Appalachian Project Collection at the Center for Folklore Studies Archives.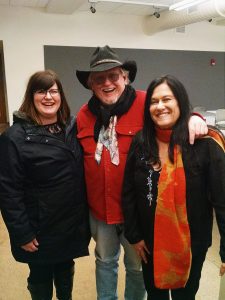 L to R: Lynaya Elliott, Appalachian Project co-facilitator, David Morris, Barbara Kopple
A special thank you to our sponsors for the event:
This event was organized by The Appalachian Project, Ohio (a collaboration between the Center for Folklore Studies, the Department of Women's, Gender, and Sexuality Studies, and Student Life's Department of Social Change), and co-sponsored by the Department of Arts Administration, Education and Policy; American Indian Studies; Wexner Center for the Arts; Comparative Studies; Film Studies; the Department of English; the Barnett Center for Integrated Arts and Enterprise; and the School of Environment and Natural Resources.