Welcome. I am Elizabeth Weiser, an Arts & Sciences Distinguished Professor in the English Department at The Ohio State University. I am a rhetorical theorist, historiographer, and museologist, studying the rhetorical practices occurring in heritage museums around the world.  I look at how the stories we tell about our communal past influence how we see ourselves—our communal identity—and thus what we imagine we can do together in the future—our communal actions.
I am currently working on a project examining the ways that museums run by diverse subaltern communities in the U.S. are telling traumatic histories in a manner that promotes healing–a particularly daunting task in an era when toxic polarization has led to calls to stifle all such "divisive concepts" from public education forums. Titled Reparative Rhetoric: Culture and Conscience in Precarious Times, the book will look at a dozen such museums, most new, most located in the conservative heartland.
My last single-authored book, Museum Rhetoric: Building Civic Identity in National Spaces (2017), took me to over 60 national heritage museums in 22 countries on six continents to examine the ways national identity is promoted. Other books include Burke, War, Words (2008), on the development of dramatism during WWII, and six edited collections: two in museum studies (Taboos in Museology: Materials for Discussion [2022] and its more complete successor Taboos in Museology: Difficult Issues for Museology [2023]), three in rhetoric (In the Classroom with Kenneth Burke [2023], Women & Rhetoric between the Wars [2013] and Engaging the Audience [2011]), and one a local history text (The Fertile Earth and the Ordered Cosmos: Rreflections of the Newark Earthworks and World Heritage [2023]). Although I identify as a Burkean scholar, my published articles have ranged from analyses of Dorothy Day to global technology museums, from the Boca Juniors soccer stadium to the international museum definition debate and the Newark Earthworks. You can find many of them at https://osu.academia.edu/ElizabethWeiser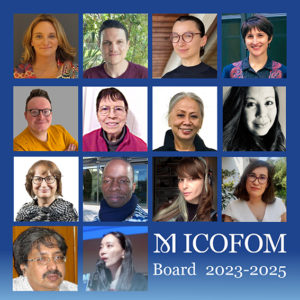 I am the only American on the executive board of the International Committee for Museology (ICOFOM); I served on the executive board of the Kenneth Burke Society for seven years, and I have taught at Ohio State since 2004.
On the Newark campus of OSU I currently teach classes in rhetoric, writing, and language analysis. I've won campus awards for my teaching, mentoring, research, service, and inclusive alliance. I have a PhD in Rhetoric and Composition from Texas Christian University, an MFA in Creative Writing and an MA in International Education.
When I'm not working, I write novels (my novel Lumen is available from Amazon); I love hiking & biking, concerts & plays. I am happiest either with the New York Times in my living room or with my backpack exploring a new country.