We are now at the point in the semester where we are all counting down the days until finals are over and summer is here. I don't know about you all, but I think the past three months have flown by, especially March. With March coming to a close, I thought it would be a great time to reflect back on the past 31 days and take those lessons with me as I head into April.
1. Things aren't always predictable. 
If you've been on any form of social media or watched television lately, then you're probably aware that March Madness is in full swing. I'm not one who follows basketball religiously, but it is always fun to have some friendly competition through creating brackets with my friends and my family. This year was especially exciting because it was the first year that participants could enter the Billion Dollar Bracket, where you could win a billion dollars if you created a perfect bracket. Over 11 million people entered the Billion Dollar Bracket and just after the second day no one was left. With eight upsets in just the first round, I think it is safe to say that despite how sure we are that something might happen, life always manages to throw us curveballs. Whether it is your March Madness bracket or something else, it is important to keep things in perspective when unpredictable situations are thrown your way.
2. No matter how long you've been at Ohio State, there is always something new and exciting to experience.
One thing I love about Ohio State is that there is always something going on. While it is easy to aware of the big events happening around campus, curiosity and a mindset of adventure can help you find something new going on that you may have never heard of before. It is important to keep an open mind as you attend something for the first time as well as when you look for things to do around campus. A few weeks ago, I was grabbing dinner with a two of my friends in the Union when we saw a sign outside of the Performance Hall for the Multicultural Greek Council Variety Show. Needless to say, walking into the Union , that was really the last thing I expected to do. We decided to go watch and had a great time seeing the different groups' performances reflecting their cultures. Your time spent at college moves quickly so if you don't stop and look around every once in a while, you might miss it.
Check out this video from OSU Genesis, Ohio's Premiere All Male Fusion Dance Team! They are just one of the many unique student organizations at Ohio State!
3. Having time away to recharge is important.
I think it is safe to say that everyone's favorite part of March was Spring Break. Let's face it, nine straight weeks of classes can get to be a bit draining. Spring Break was the perfect time to take a step back and get away from it all for a while. Whether you went camping in Florida (like me), went skiing in Colorado, or just went back home, those nine days of break were just what we all needed. Coming back from Spring Break, I felt recharged and ready to get back into my weekly routine. Although stress comes with being in college, it is great to know that we have those opportunities to relax and rejuvenate.
4. Ohio is still confused about our current season.
Nothing says "spring" like waking up, looking out your window, and seeing a fresh layer of snow covering the ground. This past month we've had it all: rain, snow, and 60 degree weather. It seems as though Ohio is having an identity crisis and we are suffering because of it. Just keep checking the weather forecast because you never know what it will be like walking around campus!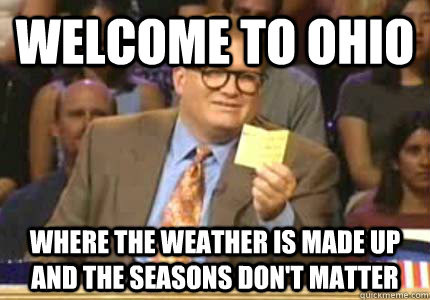 5. You can definitely overcome the mid-semester "slump".
At the beginning of the semester, it seems as though everyone is so determined, eager to learn, and ready to push through the next 14 weeks. But suddenly there becomes a point in everyone's semester when we lose this focus and hit the mid-semester "slump". At the time, it may feel as though you've hit a wall, but don't let that discourage you! Looking back, we have already completed 11 weeks of classes, which means that there is only less than one month left. If you're feeling a bit down about the semester, keep your head up and be proud that you have powered through the last three months. You only have one month left of your first year of college, so make the most of it!