Ohio is called the "Birthplace of Aviation" – scroll down to learn more about some of the most famous individuals and institutions in aviation and aerospace that have shaped Ohio's legacy to date.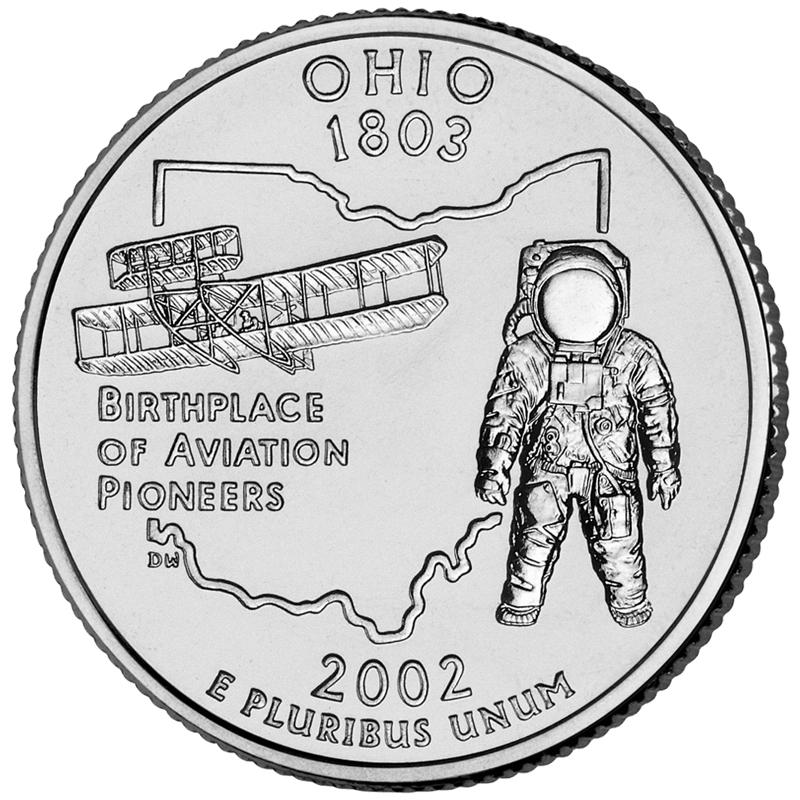 Did you know that the Ohio State Quarter pays homage to our state's lineage of Air and Space Pioneers?
The Wright Brothers
Wilbur and Orville Wright, the inventors and flyers of the first powered aircraft in 1903 hailed from Dayton, Ohio
Ohio was declared by Congress as official "Birthplace of Aviation"
Visitors can still tour the Wright Brothers' bicycle shop and different airfields used for researching, design, construction, and testing of various Wright Flyer models at Dayton Aviation Heritage National Historical Park
Col. John Glenn Jr.
John Glenn Jr. became the first U.S. astronaut to orbit Earth on February 20th, 1962 aboard Friendship 7, on a mission part of NASA Project Mercury
Following Glenn's time in the U.S. Marine Corps and NASA, he served as Ohio's U.S. Senator from 1974-1979, including a return to space aboard the Space Shuttle Discovery in 1998, where he became the oldest person to enter space
After retiring from the Senate, John and his wife Annie founded the now John Glenn College of Public Affairs at The Ohio State University, where today visitors can view artifacts from Glenn's life in the lobby of Page Hall
Neil Armstrong
Neil A. Armstrong, the first man to walk on the moon during the Apollo 11 lunar landing mission, hailed from Wapakoneta, Ohio
He began his career as a Naval aviator, then became a research pilot at the NASA Flight Research Center testing experimental high speed aircraft such as the X-15
Following his retirement, Armstrong taught in the Department of Aerospace Engineering at the University of Cincinnati until 1979
National Museum of the United States Air Force at Wright Patterson Air Force Base
The oldest and largest military aviation museum in the world, with more than 360 aircraft and missiles on display
Collections are organized in hangars according to time period (i.e. Early Flight, WWII, Cold War, Space and Presidential Gallery)
Free and open to the public
Established in 1942 as the Aircraft Engine Research Laboratory for the National Advisory Committee for Aeronautics (NACA), later incorporated into NASA
Includes the satellite Plum Brook Field Station in Sandusky for large scale tests and the Zero Gravity Research Facility – the largest micro-g facility in the world
Core competencies of Glenn Research Center include air-breathing propulsion, communications technology, space propulsion and cryogenic fluids management; power, energy storage, and conversion; materials and structures for extreme environments