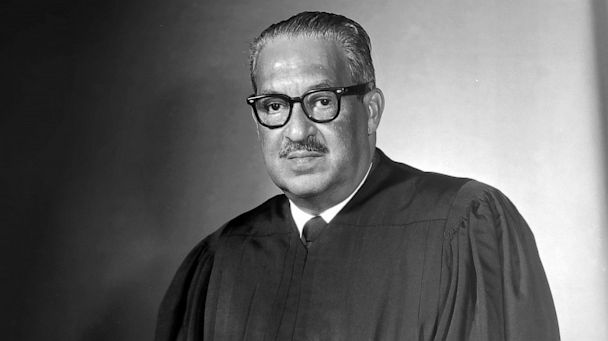 Hello readers.  My name is Thurgood Marshall and I was a Supreme Court Associate Justice from 1967 until 1991.  Before becoming a Justice, I was best known for arguing the case of Brown v. Board of Education before the Supreme Court, successfully overturning the "separate but equal" style of public education.  Overall, I won 29 of 32 cases before the Supreme Court.
I was nominated for the Supreme Court by President Lyndon B. Johnson.  During my time in office, I compiled a mostly liberal record.  I also firmly believe that the Constitution is not a perfect document, evidenced by the speech I gave during its bicentennial celebration.  I referenced its need for amendments, a civil war, and change in general in order to become the important document we know today.
Two of my most famous cases are United States v. Nixon and Texas v. Johnson.  In United States v. Nixon, the Court and I ruled that there is a limit to presidential powers and immunities during the judicial process.  In Texas v. Johnson, we a 5-4 decision (in which I was in the majority) ruled that the burning of the American flag is protected by the First Amendment.
In regards to the First Amendment, I have always fought strongly for the civil liberties it protects.  All of the freedoms given by the First Amendment are of the utmost importance for a country that desires freedom and advancement as much as the United States.  I also strongly fight for the rights of criminal suspects against the United States.
Until next time,
Thurgood Marshall
"Biographies of the Robes: Thurgood Marshall".  PBS.  Retrieved 3 September 2014.  Web.  http://www.pbs.org/wnet/supremecourt/rights/robes_marshall.html
Starks, Glenn; Erik Brooks, F. (2012).  "Thurgood Marshall".  Retrieved 3 September 2014.  Web.  http://books.google.co.uk/books?id=UwWExjnyfoMC&pg=PA8&lpg=PA8&dq=Thurgood+Marshall+Alpha+Phi&source=bl&ots=ajzp8mKRZb&sig=NSebyIgHFxT_nSfoc3CItB_-xa4&hl=en&sa=X&ei=dNxkUMu8FYuhyAGQxoFA&ved=0CDoQ6AEwAg#v=onepage&q=Thurgood%20Marshall%20Alpha%20Phi&f=false
ThurgoodMarshall.com, Speeches.  "Constitutional Speech".  May 6, 1987. Retrieved on 3 September 2014.  Web.  http://www.thurgoodmarshall.com/speeches/constitutional_speech.htm
Laws.com.  "Thurgood Marshall".  Retrieved 9 September 2014.  Web.  http://supreme-court.laws.com/thurgood-marshall
Idealistic Ambitions.  "Today in Black History: Thurgood Marshall Nominated for U.S. Circuit Court of Appeals".  Retrieved 9 September 2014.  Web.  http://idealisticambitions.wordpress.com/2013/09/23/today-in-black-history-thurgood-marshall-nominated-for-u-s-circuit-court-of-appeals/