Source: SCMP (4/29/18)
Chinese art professor sacked after award-winning poster series found to be plagiarised
Fan Yu has lost his job and his Red Dot design award after it emerged he had borrowed many elements of a work by British illustrator Russell Cobb
By Sidney Leng
A Chinese art professor has been sacked after he was found to have plagiarised the work of a British illustrator for a poster series that won him an international award, a mainland newspaper reports.
The Xian Academy of Fine Arts said Fan Yu was dismissed from his job on Friday after the school confirmed the plagiarism, Chengdu Business Daily reported on Saturday.
Fan's artwork won the Red Dot: Best of the Best award for communication design in October, but has been stripped of the prize following the revelation, according to the report.
The Red Dot Design Award is an international competition with prizes in categories covering product and communication design that started in Germany in 1955.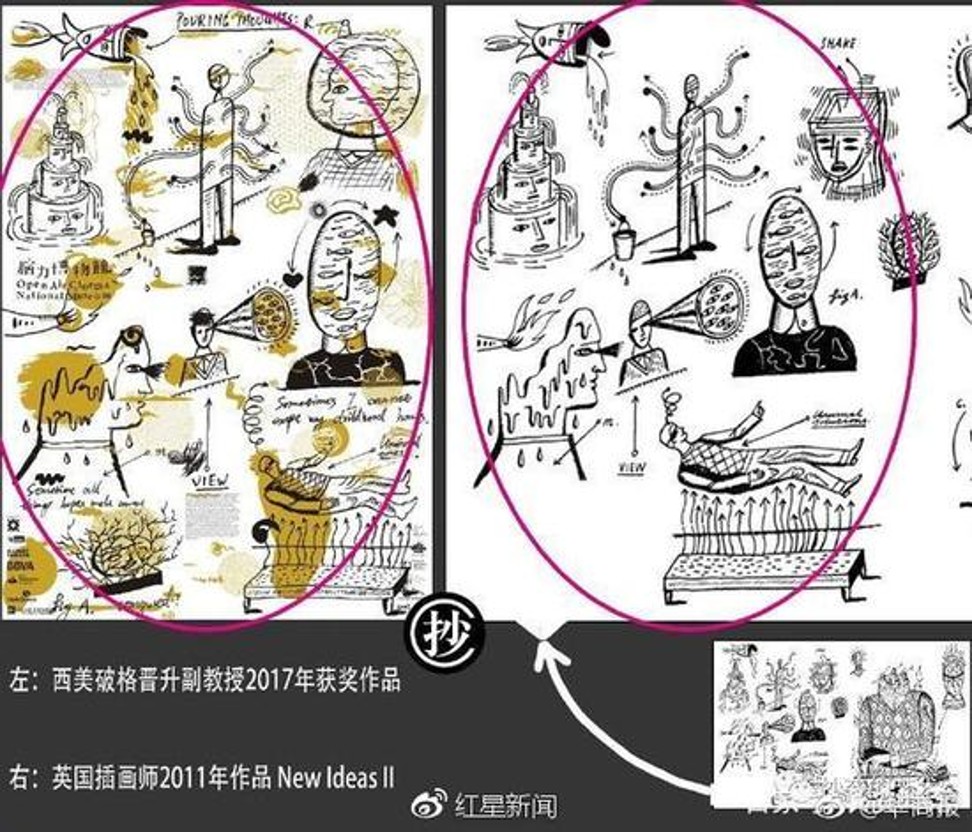 The description of Fan's winning four-part poster series, Open Air Cinema National Museum, said it was designed for the Xian Concert Hall and the drawings "explore how the brain, the 'strange cavity', works and processes information with its countless cells and lobes".
Fan was also promoted by the academy after he won the award.
[China's Van Goghs film review: Shenzhen art counterfeiter profiled in surprisingly poignant documentary]
But last week, concerns were raised online about striking similarities between Fan's posters and a 2011 work by British artist Russell Cobb, entitled New Ideas II.
A detailed comparison by Chaoxiart, or "the art of plagiarism" – an account on Chinese social media platform WeChat that exposes such cases – showed that Fan had borrowed many elements of Cobb's work, with the only variations being the use of different colours in some places.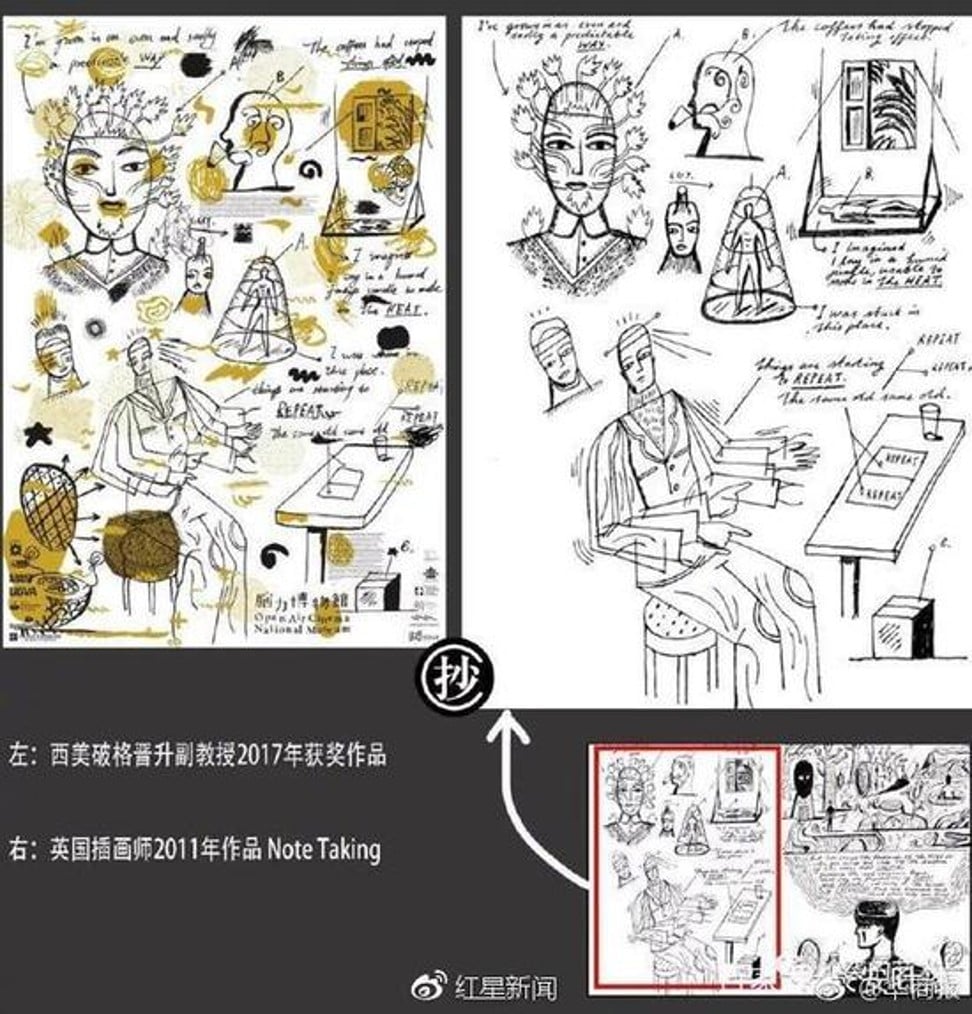 Chaoxiart said it contacted Cobb, who told them in an email that he had not met or heard of Fan until April 21, when Fan asked him to collaborate on an artwork. Fan had aggressively tried to pursue the collaboration after Cobb discovered his work had been stolen, according to the email posted on Chaoxiart.
[Producers of hit TV show about corruption in China facing US$2.7m plagiarism suit]
Cobb teaches at the University of the Arts London and was previously chairman of the Association of Illustrators.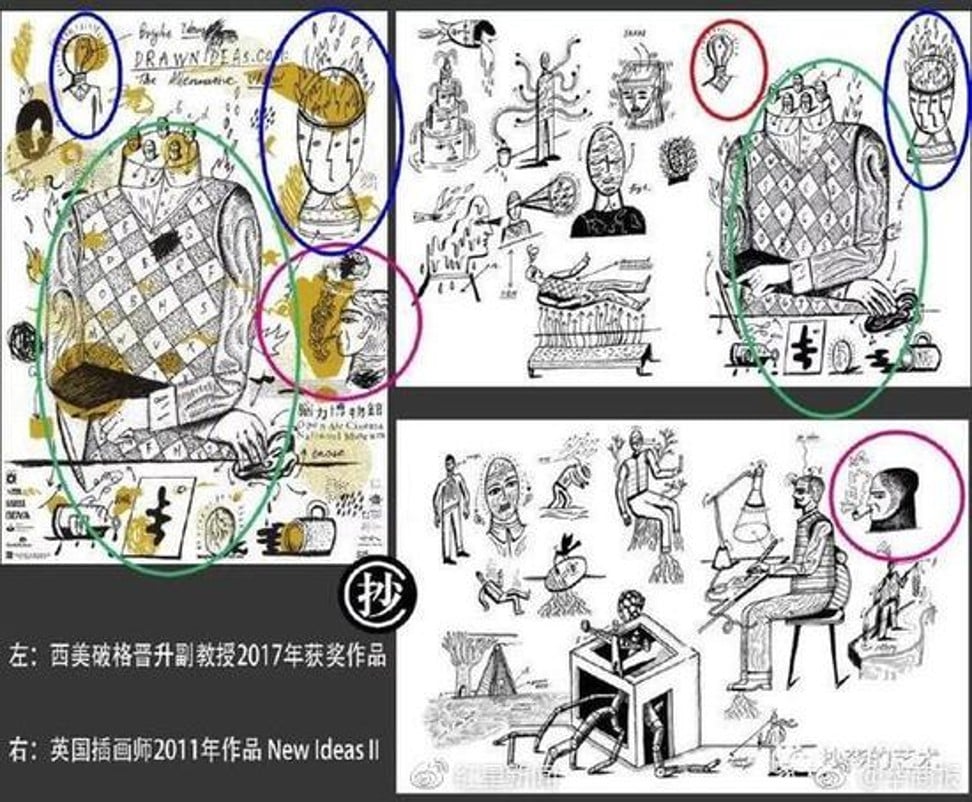 Red Dot meanwhile said it had removed Fan's name and artwork from its website after confirming it had been plagiarised and that the client information was fabricated, according to the newspaper report. It said anyone who infringed on copyright would be banned for life from taking part in the award.