Source: SCMP (2/22/18)
China 'opposes' racism but dismisses criticism of CCTV blackface skit
Foreign ministry says backlash over Lunar New Year comedy sketch is 'futile' effort to drive a wedge between China and African nations
By Catherine Wang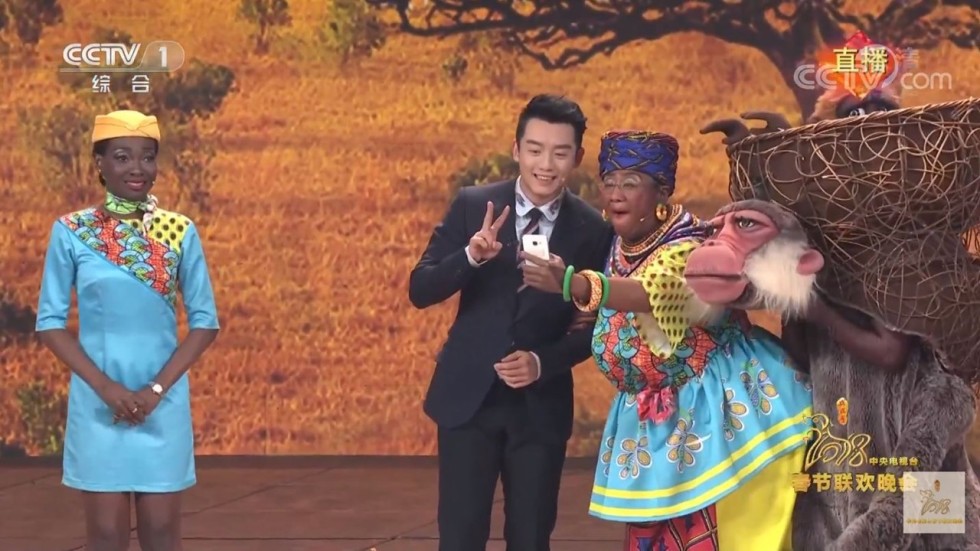 Beijing on Thursday said it was against any form of racism but dismissed widespread criticism of state broadcaster CCTV's annual holiday variety show as an attempt to drive a wedge between China and African nations.
A comedy sketch on the country's biggest and most popular Lunar New Year television show caused uproar for using a Chinese actress in blackface and giant fake buttocks to depict an African character, and a black performer playing a monkey.
The skit was featured last week during the CCTV New Year's Gala – also known as the Spring Festival Gala – that is broadcast annually for the Lunar New Year and gets as many as 800 million viewers.
It was meant to highlight China's ties with the African countries, but many found the portrayal offensive and racist.
['Racist' Chinese Spring Festival TV show causes anger over 'blackface']
Foreign ministry spokesman Geng Shuang on Thursday denied the show was racist and said China "has always opposed any form of racial discrimination".
"But any efforts to use this as a pretext for making a fuss and driving a wedge between China and African countries are futile," Geng said during a regular press conference.
He went on to say that China's relationships with African nations were ironclad and had brought benefits to both sides.
"African countries and their people know in their hearts the state of our relationship and whether we have good cooperation or not," he said.
During the skit, a young black woman tried to convince her mother to let her move to China by getting a Chinese friend to pretend to be her fiancé.
The mother, played by Chinese actress Lou Naiming wearing blackface and a fake posterior – and accompanied by a monkey, apparently played by a black performer – was thrilled to hear that her daughter planned to marry a Chinese man and grateful for China's contribution to African countries.
The comedy sketch ended with the mother discovering her daughter's lie, but she said she couldn't be angry because China had done so much for Africa, shouting in Mandarin: "I love Chinese people! I love China!"
[Blackface skit on TV gala a sign that rising China needs to combat racial and ethnic stereotyping]
It drew anger and criticism online, with some saying the state broadcaster should take care not to cause offence when planning the show, and many others condemning the sketch as completely racist.
China has for many years invested heavily in Africa, especially infrastructure, and will host a China-Africa summit later this year at which Beijing is expected to announce further investment and aid to the continent.
[Mr OneTwo on life as a black American actor in China]
But accusations of racism continue to surface in China. In 2016, a laundry detergent company apologised for a television commercial showing a young Chinese woman stuffing a black man into a washing machine before he reappears as a pale-skinned Chinese man.
And more recently, in October, a museum in Wuhan, Hubei was forced to shut down an exhibition that juxtaposed images of animals with close-up photos of black Africans after it received numerous complaints.