Source: China Daily (1/5/18)
Fine harvest for farmers of fiction
By Mei Jia | China Daily
An unprecedented year for burgeoning literary talent has yielded a profitable harvest for publishers. Mei Jia reports.
In terms of the creation of literature, both critics and publishers can agree that 2017 was a busy year, and one also filled with achievements, judging by the number and quality of literary works published in journals and as individual titles.
"Realism continues to be a trend, and writers are concerned mostly about issues regarding social reality and people's livelihoods," one industry insider says.
Like other end-of-year book lists and literary awards, the 2017 Wang Zengqi Award for Chinese Stories tries to offer insight into the bigger picture behind China's contemporary-writing scene.
The award was announced in Beijing on Dec 28 shortly after the judges' final meeting to vote on the results, as "a way to maintain its fairness and integrity" as deputy head of the judging committee Wang Gan says. Wang represents the committee that includes established writer Su Tong, literary critic with Beijing Normal University Zhang Qinghua, and other magazine editors and bookstore managers.
It honors works in four categories: novels, novellas, short stories and mini stories. Candidates are chosen mainly from a larger body of works published in literary journals and magazines over the course of the year.
The winners included Mo Yan in the short story category, Zhao Benfu for his novel, Wang Anyi and Zhang Yueran for their novellas, and several younger or lesser-known writers from a wide range of age groups, Wang says.
Cai Zhongfeng's shortlisted mini story that was just 778 words caught the attention of the judges for the possible 50,000 yuan ($7,700) prize. The story was inspired by his job as a grass-roots official in Shandong province, who dealt with complaints.
"We judge works by their value, and not by their form or length," Wang says, adding that works that echoed the simplicity of the Chinese philosophy exemplified by Wang Zengqi's (1920-97) works, were exactly what the committee was looking for.
Su says he voted for a winner whose name he hadn't heard before. His short story, about a child named Mo Xiang Jing (sperm whale) who loses his life after the arrival of an unexpected guest, was penned by Fan Jianjun, a writer from Xiushui county in Jiangxi province.
Su also praised Shuang Xuetao's keen mind and writing skills. Born in Liaoning province in 1983, Shuang's winning short story about a writer looks at an unsolved murder case and impressed the judge immensely.
"Shuang has already mastered the skill of setting 'traps' in his work, to extend the breadth and depth of his writing," Su says.
Wang, also deputy director of the Selected Stories magazine, is seeking to widen the appeal of Chinese literature with the award.
"We hope the winners will follow in the footsteps of Wang Zengqi and tell stories about Chinese tradition and cultural spirit," Wang says.
To him, the works offer a slice of contemporary Chinese writing. They talk about reality, reveal people's struggles under the pressures of modern life and depict the ordinary yet vivid daily lives of Chinese people.
"They are about the creative transformation of Chinese culture, set against the backdrop of accelerating social development," he adds.
More critics noticed the recurring theme of social reality in the novels published throughout the year.
Four out of five of the winning novels explored the motif of reality observed from a different perspective, critic Bai Ye says at a forum arranged by Selected Novels magazine in November. "This interest from the writers echoes what was highlighted by the report of the 19th National Congress of the Communist Party of China on culture.
"It's not only about drawing attention to the theme. It's about how to think, how to process and to really understand the times we are living in," Bai says. "So, I'm concerned if writers pass off 'secondhand news' as reality, or if they're really writing from their own experience."
In the realm of so-called serious literature, Chinese writers publish more than 5,000 novels a year, Bai says.
Bai noticed more works of maturity and depth coming through from writers born in the 1970s last year, whereas works by writers born in the 1980s seem to have made less progress. To that peer critic Meng Fanhua says the '70s group has self-consciously begun to examine social conflict and spiritual struggle as major topics for discussion.
"It's not easy, but they're willing to try, which means they're becoming mature," Meng says.
Meng has strengthened the ties between past and present: "People view history based on their opinion of the present. So, sometimes we say historical novels are about reality, too."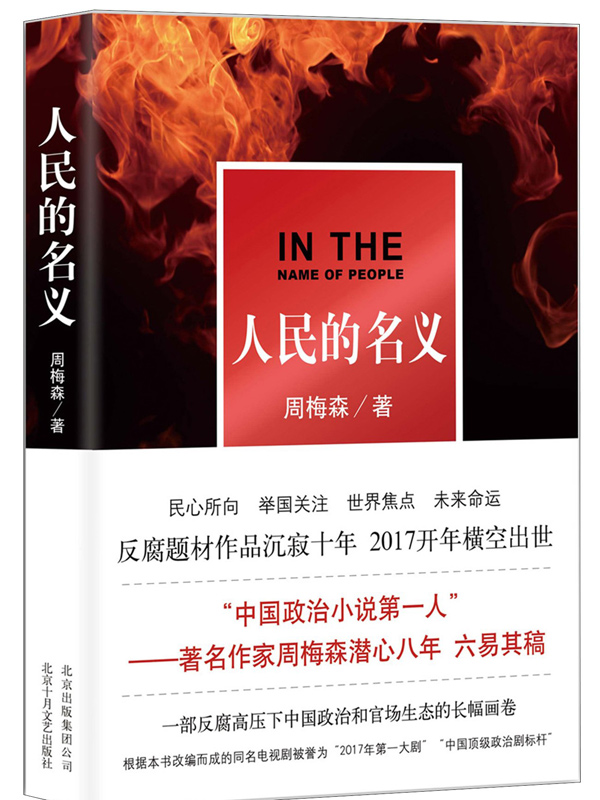 In the Name of People by Zhou Meisen is among the 2017 end-of-year book-list makers and literary-award winners that offer insight into the bigger picture behind China's contemporary-writing scene. [Photo provided to China Daily]
The Wang Zengqi Award-winning novel, The Lost Town, written by Zhao Benfu, is a double-lined story about a professor discovering a mysterious village and two heroes from the War of Resistance Against Japanese Aggression (1931-45).
And from a publishers' viewpoint, 2017 yielded a bumper harvest for publishers of fiction.
Song Qiang, from the People's Literature Publishing House, tells China Daily it will be the first year that the publisher will exceed total raw earnings of 1 billion yuan, based on book prices.
"Novels' set prices play an important role in generating sales. We will boost our numbers of original titles by contemporary writers," Song says. The novel You Touched Me, written by Yan Geling and published by the People's Literature Publishing House in April, sold 600,000 copies and was turned into the hit movie Youth, directed by Feng Xiaogang.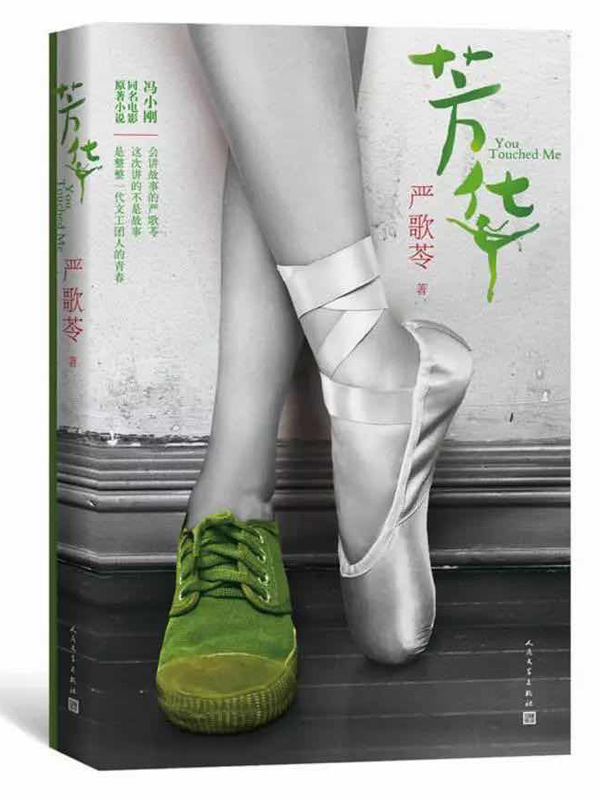 You Touched Me by Yan Geling is among the 2017 end-of-year book-list makers and literary-award winners that offer insight into the bigger picture behind China's contemporary-writing scene.
Also influenced by TV presentations, books like In the Name of the People by Zhou Meisen, published in January, have become best-sellers.
China Publishing and Media Journal published a list of literary best-sellers by sales, which showed several titles having sold more than 1 million copies.
Sina.com's Asian Best Books List, as well as sales statistics from Xinhua Bookstore chains, offer more proof of the strength of this growing trend.
At the same time, Song says classics remain popular, as the press continues to sell 600,000 sets of The Four Ancient Classics every year.
Critic Lei Da affirms that the year bore witness to the prosperity of literal creations and publishing, and points out the Chinese novelists seem to have accelerated their creative output. Yet, he says we will still have to wait for a top work of the highest quality to cast a truly global influence.
Contact the writer at meijia@chinadaily.com.cn
Fang Aiqing contributed to the story.