Source: SCMP (5/15/16)
Thousands of Chinese parents take to the streets to protest university admission quotas
Move to open top universities to students from poor areas has parents fearing locals will suffer 
By He Huifeng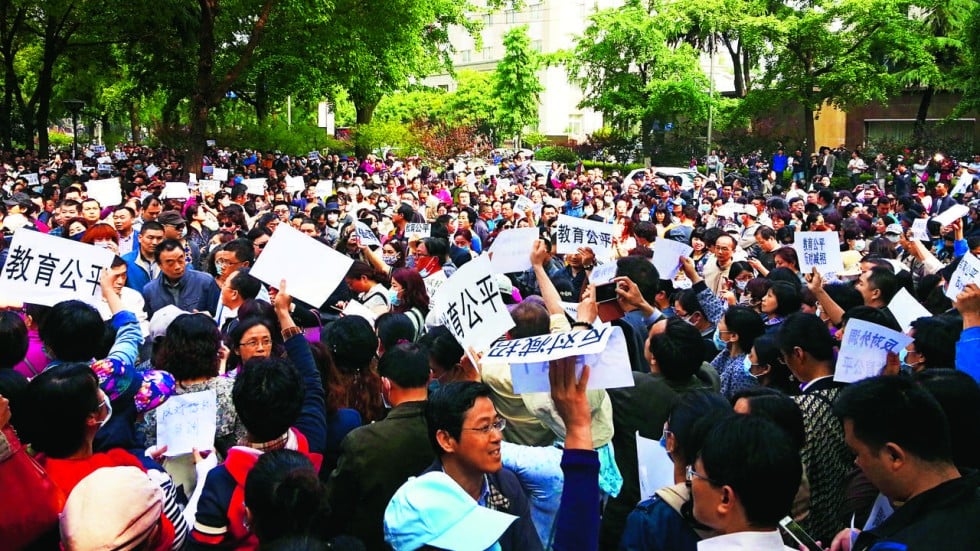 Under the new scheme, leading universities across the country must admit a greater number of non-local students, which the parents fear will make it more difficult for their children to find a place at schools close to home.
Demographers said the protests highlighted the unfairness of a college admission system that was based on household registration, or hukou.
[Chinese student protest forces university to reverse ruling forcing them to work as unpaid extras on Long March film]
As part of their protest, the parents gathered in front of provincial government buildings in Wuhan and Nanjing, and handed in petitions outlining their concerns at local education bureau offices. Some demonstrators clashed with police and were detained, video posted on mainland social media showed.
The Ministry of Education and the National Development and Reform Commission jointly announced the plan early this month to adjust enrolment quotas in an attempt to make admission to top universities more equitable, and reduce the pressure students faced from the college admission test.
The central authorities required universities in 14 developed provinces such as Hubei and Jiangsu, and big cities like Beijing and Shanghai, to admit a total of 210,000 students from poorer inland provinces – like Henan, Guangxi, Guizhou and Gansu. Under the plan, universities in Hubei and Jiangsu must offer nearly 80,000 seats to outside students.
[Why Chinese parents are sending their children abroad to study at a younger age]
The parents were quoted by news website ThePaper.cn as saying that less than 10 per cent of local students in Jiangsu would be enrolled in local key universities while a student from Beijing had about a one in four chance.
They said they felt angry and confused why universities located in the national capital were allowed to reserve more spots for those students with a Beijing hukou, while students in Hubei and in Jiangsu had to make more room for non-local students.
The parents' concerns were reasonable, according to Huang Wenzheng, a demographer and visiting scholar at Peking University's Guanghua School of Management. The mainland's college admissions system has long suffered from distortions caused by the residency control system.
[Chinese University medical students can spend first half of training at Cambridge]
Students who want to attent a university away from where they live must often score significantly higher than locals on the general entrance exam, as most schools give preference to residents,
Big cities such as Beijing and Shanghai are home to China's best universities, such as Peking and Tsinghua, which often enrol more students with Beijing and Shanghai permanent residency than those from other provinces. In recent years, the students' administration offices of those universities have refused to provide the data about the number of their students with Beijing permanent residency.
Huang called on universities to adopt a single entrance exam score for students across the country.
He also warned that universities faced a challenge from the declining birth rate, which would lead to ever smaller pools of applicants. "According to official data, there were 28 million newborns in 1991 in China, and the figure dropped by half to 14 million in 1999," he said.
The number of newborns dropped by 320,000, or nearly 2 per cent, year on year in 2015, the National Bureau of Statistics announced in January. The government began to ease the one-child policy in 2014, and this January allowed all couples to have a second child, in a bid to offset the greying of society and reverse a long-term trend towards lower population growth.