Source: Farmdoc, Chad Fiechter and Jennifer Ifft, Cornell University
To manage input costs, many producers take advantage of early pay and other discounts offered by input suppliers. Seed and chemicals often have complex pricing, with a range of pre-pay discounts, volume discounts, rebates and other incentives. On top of that, financing options are almost always available, with their own schedule of discounts and fees. This series addresses the following aspects of seed corn costs: (1) early cash payment and volume discounts (2) discounts under seed company financing options, and (3) the cost of seed company financing relative to traditional financing. In our first article (farmdoc daily October 10, 2019), we created a hypothetical discount schedule based on published discount schedules to show that seed discounts can easily reduce costs by over 20 percent  of the base price with early cash payment and volume discounts. In this article, we use this information to consider how discounts work under seed company financing.
Most seed companies offer financing under a separate discount schedule, which we summarize in Table 1. As we discussed in our previous article, we do not account for base price, but consider only the potential range of prices across an individual company, holding base price constant. Locking in financing early and obtaining a volume discount can lead to discounts from the base price in the range of 15 percent, which offers meaningful cost savings.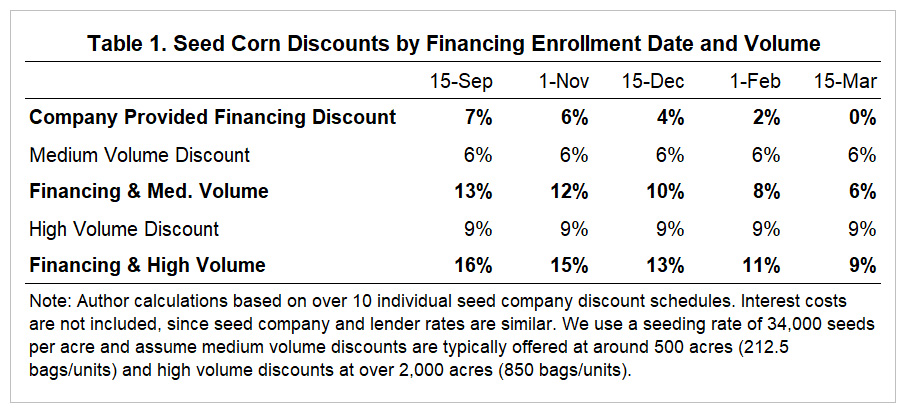 Continue reading →