Countless students, faculty, perspectives, tourists, and Columbus natives utilize this specific pathway that marks the beginning of the eastern edge of campus. Beginning at High Street, it leads to many dorms that thousands of students call home. This walkway is an important gateway to the heart of campus life, but is usually unrecognized due to its simplicity. With the position it is in, being close to the night scene and off campus areas, safety becomes a priority. This walkway offers little in terms of the lighting needed to ensure students safe passage home, especially on weekend nights when many return very late. Implementing artwork could have many positive effects in highlighting this area as the important entrance to campus it is, and making it safer due to more lighting opportunities and increased awareness of the space from people around the area.
UC Berkeley Seal
Boston University Seal
This walkway is used every day by not only students, but professors, alumni, and proud parents every day. It is a gateway for Buckeye fans as they travel to and from the stadium from High Street, but it's unbelievably boring. It's not noticeable or distinguishable from any other brick path. Our plan is to place an OSU seal right in the middle of the entrance onto North Campus. Walking around, there isn't much to distinguish North Campus from any other university. With a seal in the brick, we could definitely call this North walkway our own. We drew our inspiration from the sea on South Campus on the oval. We also noticed seals on other heavily used pathways at other universities, such as Boston University who, like OSU, has a heavy tradition surrounding it. Seeing a seal on the ground would create a space that inspires school spirit and a sense of place.
Purdue Water Fountain
Indiana University Fountain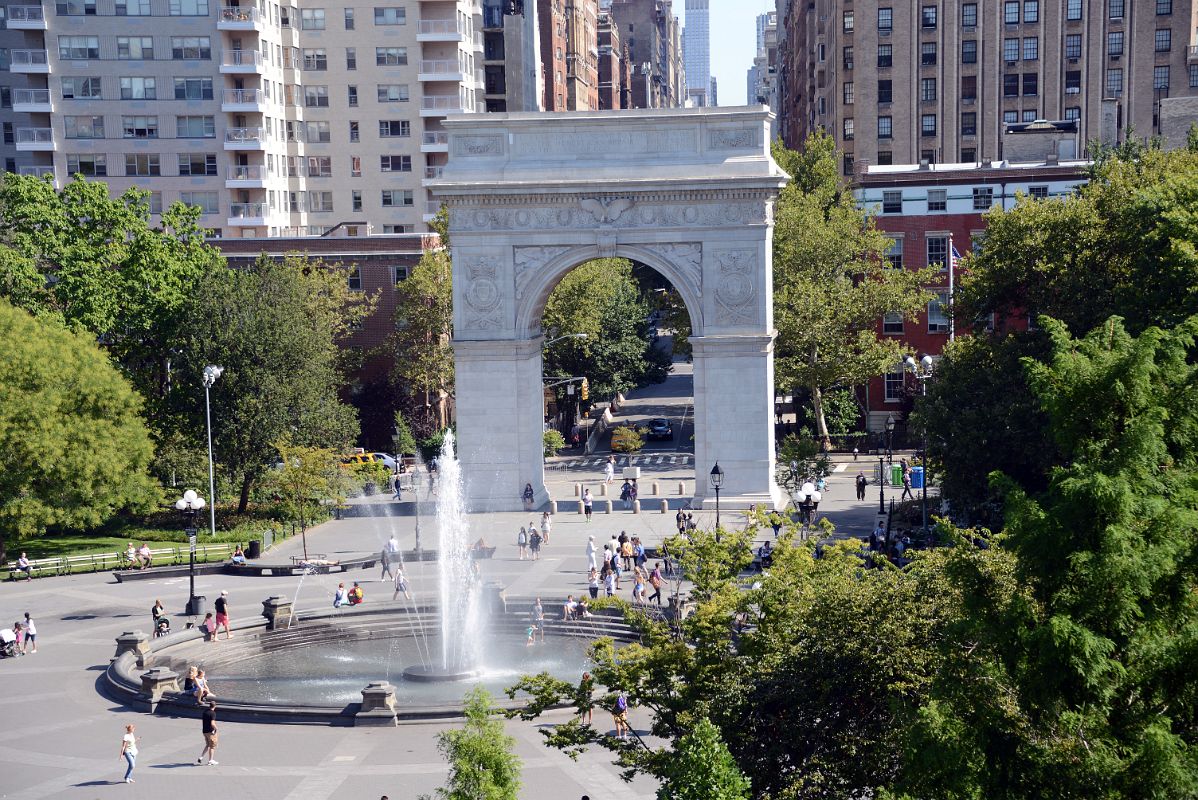 New York University Fountain
We also explored the possibility of adding a water feature to this location. We believe that it would make the whole area look better overall and also provide lighting to an otherwise darker area. Our goal here was to make this location as inviting as possible during the day and at night. One of our ideas is to add lights into the water feature so at night it will add color and light for passersby to enjoy and deter most crime that would possibly take place in a poorly lit area. We got this idea of a water feature because often, big corporations have them around their headquarters creating an inviting, yet powerful presence. There are always people taking pictures or videos of these features, or just hanging out around them. We thought adding features to this area would it recognizable and provide a sense of place. Overall, adding water to this area would create not just a recognizable point of campus, but also a space for both students and visitors alike to enjoy.
Monetary support is necessary to see our ideas become reality. To add visually pleasing and helpful features, we need to be backed by people who understand and support the growth and beautification of the Ohio State University. One of the few people we thought could help finance our project ideas is the university itself. The Ohio State University Campus security should be very supportive of our idea, as it will light the walkway, making students, staff, and community members feel safer while walking at night. Another supporter could be the many clubs around campus. The lights included in the water feature could be multicolored and be set for different events and occasions. Red and white for game days, pink for breast cancer awareness month, and even rainbow for pride month. Finally, we could also ask different fraternities and sororities or even alumni if they would be interested in helping fundraise for the different features. We would offer surrounding bricks where a donor's name would be stamped in, becoming an important part of the Ohio State University.