By David Marrison, Jeff Workman & Chris Bruynis
For the first time in its nearly 60 year history, Ohio State's Farm Science Review scheduled for September 22 -24 will not be held in-person.  Instead, a virtual show will be held and the Review will come to you on your laptop or smartphone this year, and for free.  You can watch live streamed talks and recorded videos featuring the latest farm equipment and research to pique your curiosity.
Virtual visitors can find out about the show's offerings by going to fsr.osu.edu and clicking on an image of the show's site. Within that image, people can click on the various icons to find the schedules for talks and demos they're most interested in, such as field demonstrations or "Ask the Expert" talks.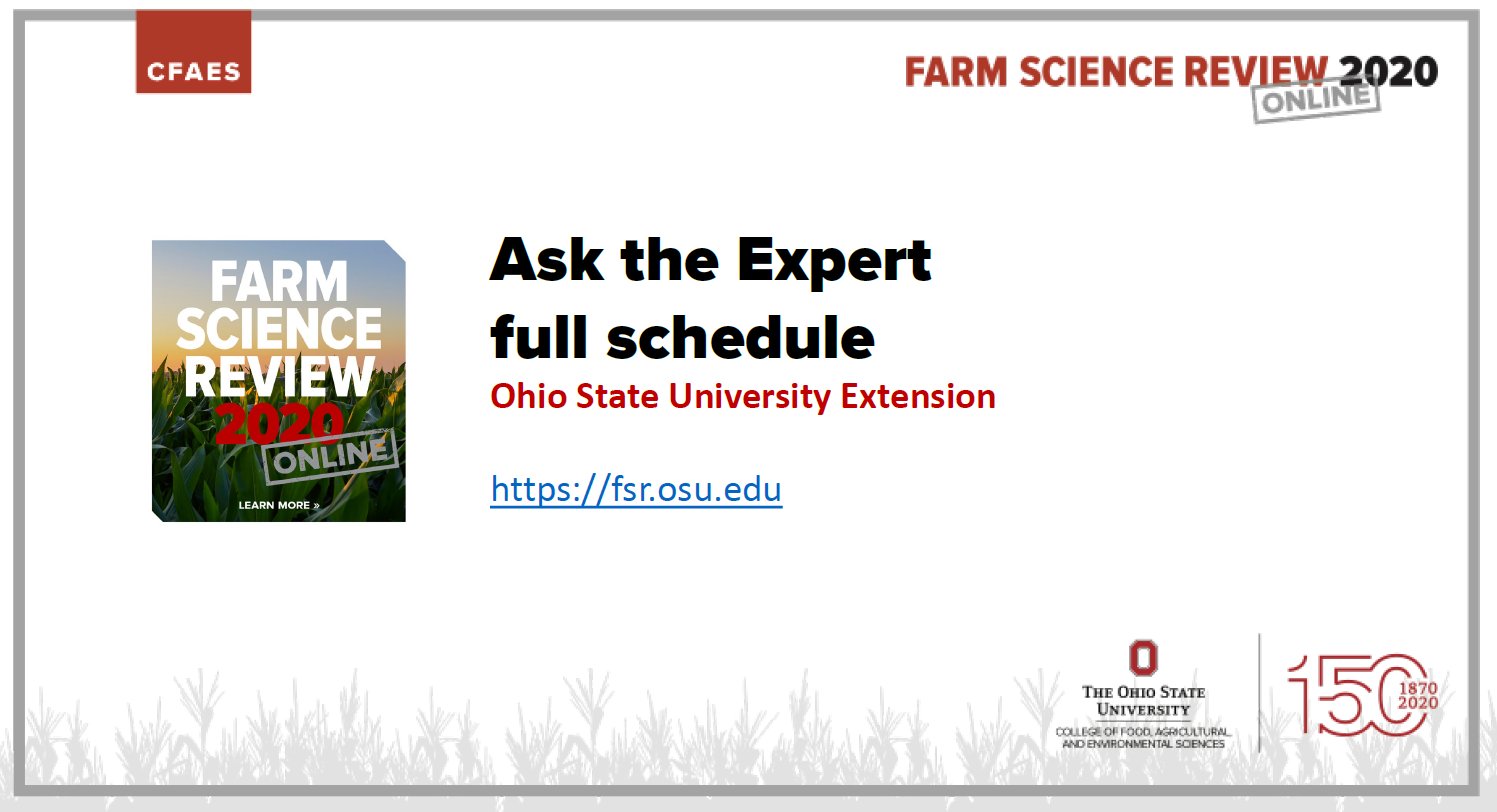 Among the livestreamed talks will be Ask the Expert presentations. Viewers will enter the talks through a Zoom meeting link and be able to post their questions in chat boxes. If you miss any, you can check back after the talks to watch the recordings.
The 20 minute "Ask the Expert" presentations at Farm Science Review are one segment of the College of Food, Agricultural, and Environmental Sciences (CFAES) and the College of Veterinary Medicine comprehensive Extension Education efforts during the three days of the Farm Science Review. Our experts will share science-based recommendations and solutions to the issues people are facing regarding weather impacts, tariffs, veterinarian medicine, and low commodity prices.
Topics for talks at FSR this year include the risks of transmitting COVID-19 to your animals, the prospects of U.S. agricultural exports abroad, increasing profits from small grains by planting double crops, climate trends, managing cash flow on the farm, farm stress, and rental rates on agricultural land.
To access all prerecorded and livestreamed talks at Farm Science Review, sign up on or after Sept. 8 at fsr.osu.edu.
Click here for a PDF copy of the 2020 FSR Ask the Expert full schedule